What is a Yoga Health Coach?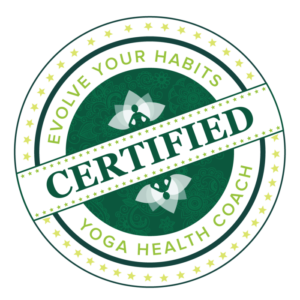 I'm a guide and lifestyle architect who uses the systems rooted in yoga and Ayurvedic living to help you align your wellness journey with your priorities to live a life you love.
Yoga is a practice. Any form of practice is a discipline. Discipline and consistency are the catalysts for change. If you are ready for change and aren't sure where to start, you are in the right place.
After twenty years of complaining about digestive issues and having my weight and my moods fluctuate and spending thousands of dollars on alternative medicine, it was Ayurveda and yoga that sealed the deal. Confidence in my own health grew exponentially and I was connected with other people interested in living a similar level of vitality I was.
Asking for help and support can be the biggest obstacle to living our dreams. There is no start or end to this journey of health and wellness. There is only where you are NOW.
Is a private coaching session a fit?
You want to take care of yourself.
You know having a guide or coach will make a difference
Your schedule doesn't align with the EMBODY Ease Course.
You want/need more individualized attention.
You are ready to invest in yourself.
You are ready for a true shift and transformation in your life.
Schedule a conversation with Rachel to strategize your own wellness breakthrough and walk away with a plan that fits YOU.
 -----
Rachel Peters is a mother, wife, teacher, wellness advocate, and lover of wild places. As a certified Yoga Health Coach she offers online and local educational and action-oriented programs for women who are ready to get clear in their minds, light in their bodies and thrive in their lives. She is the founder of the Easeful Living Community and leads yoga workshops and yoga teacher training in the Prescott area. She is dedicated to working with women change the trajectory of their lives in body, mind, and heart in real-time.