About Rachel
I'm Rachel and I'm here to help shift the way we age, parent, work and coexist on this complex journey of life through daily habits and lifestyle. I haven't always loved my life or my body or invested my time wisely and by studying and implementing yoga and Ayurveda into my life it's given me the tools and strategies to let go of old stories, optimize my digestion, love myself deeply and honor the journey of evolving in body, mind, spirit. 
Given that Ayurveda is the "science of everyday living" I'm here to support you with daily strategies to love your life, your body, your mind and your spirit so you can live the life you love. I'm here to help us all invest instead of spend time and to embody ease through habits steeped in yoga and Ayurveda while living in alignment with nature. This is the formula for thriving in this lifetime.
As a mom, a wife, an entrepreneur I know what it's like to have a long To Do list, dirty laundry, dishes, a desire for connection and longing to nourish myself and my family as best I can. I want to do all of it well (not perfectly) and with grace.

Since 2001 I've been supporting others through body, mind and heart-based yoga classes, trainings, mentoring and workshops. I'm here to do two things share and support. I want to share how these practices have helped my shift into a more conscious, vibrant and easeful relationship to life and support anyone who is ready to do the same. I've been a serious practitioner and student of yoga from a young age and have thousands of hours of teacher training, immersions, workshops and retreats with phenomenal and inspiring teachers.
In 2011 I answered a deep calling and began my studies of Ayurveda with Cate Stillman at Yoga Healer. That same year, I began intensive studies with Paul Muller-Ortega of Blue Throat Yoga on the practice and theory of meditation and embraced a daily meditation practice that changed my life and continues to. These simultaneously launched me into a new and clear vision and daily approach of what I needed to do in order to thrive in the modern world.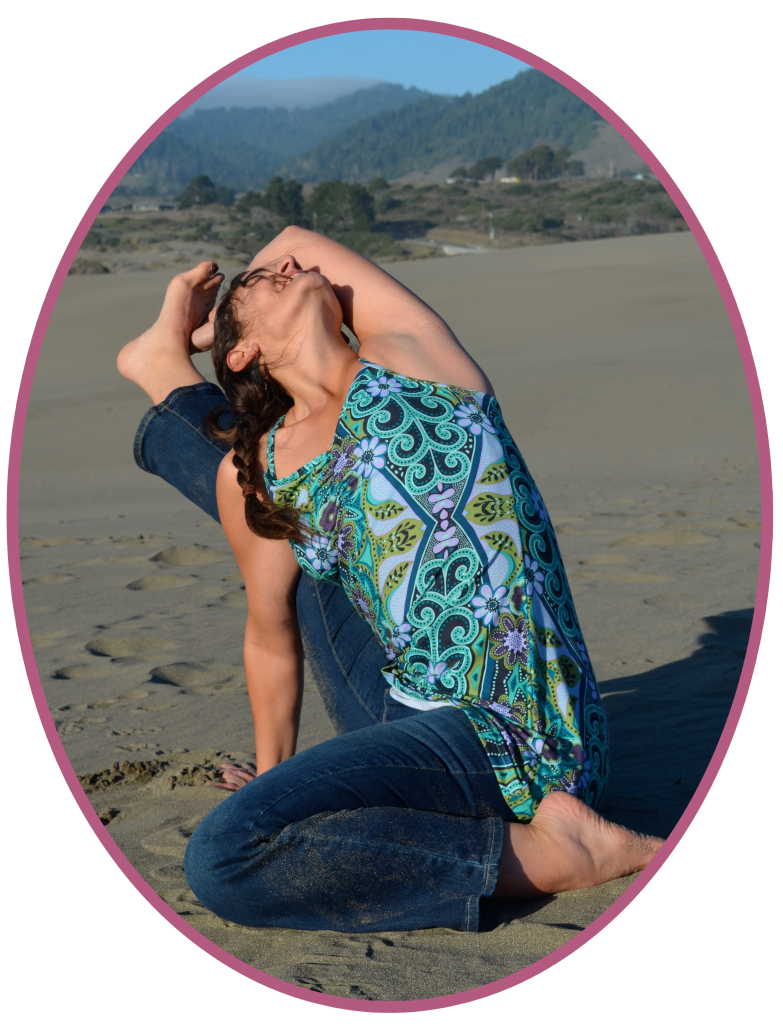 I believe easeful living is a journey with no finish line and no ONE path.
Living a conscious and healthy lifestyle is having the knowledge, skills, resources and support of a community to deeply nourish the WHOLE. This is why my Ayurvedic Living Immersions are offered over the phone and from anywhere. I want them to be accessible and available.
I'm here to help you get light in your body, clear in your mind and thrive in your life.
You're invited into a deeper relationship with yourself on this journey of self care.
I'm far from a purist. I make the teachings available and applicable in the modern world. I share my story, offer inspiration and insight into daily habits, suggest approaches that help guide you in aligning with your highest intention and provide a safe and supportive community to do it. And I certainly don't ever ask you to do something I'm not doing myself.
If you are into references, I'm a Certified Yoga Health Coach, hold a master's degree in Environmental Studies, the highest level yoga teaching credentials with the Yoga Alliance (e-RYT500), and am a Certified Anusara®yoga Teacher. Merge that with almost 20 years working for a small liberal arts college advocating for academics outside the traditional walls of the classroom, I'm eager to usher in another level of conversation at this dynamic intersection of yoga, ayurveda and living in alignment with nature.
Connect with me:
Sign up for my Newsletter
Our stories and life experience have shaped who we are and where we are going, which is why I'm offering multiple approaches to support your journey towards health on and off your yoga mat. There is no one way to move your body, pray, meditate, love or be loved. I'm here to share the powerful impact yoga and ayurvedic living have had on my life by offering support, mentoring, coaching and a big ole hug (virtual or live) and help you light the fire of inspiration and change when and where you need it. I see myself as a guide to support you in navigating the obstacles, resistance, and old patterns to incorporate new and positive daily habits that align you on your personal wellness journey.
So, to me Ayurvedic Living is about waking up each day no matter what and being willing to be in relationship with ourselves. It's about being honest, aware and willing to explore a new way of thinking, being and moving through the world. It's about showing up; because we've been called to live a more authentic, loving and joyful life. It's about catching myself telling the same limiting story and being willing to rewrite it. It's understanding that resistance is NOT who I am, but a skillful tool of the ego to keep me from changing. It's recognizing my tendencies and how they limit me from living the life I long for.
It's an authentic willingness to move in a new direction, in a new trajectory of my very own healthy living.
 -----
Rachel Peters is a mother, wife, teacher, wellness advocate, and lover of wild places. As a certified Yoga Health Coach she offers online and local educational and action-oriented programs for women who are ready to get clear in their minds, light in their bodies and thrive in their lives. She is the founder of the Easeful Living Community and leads yoga workshops and yoga teacher training in the Prescott area. She is dedicated to working with women change the trajectory of their lives in body, mind, and heart in real-time.